The Un-Official Symbols of New Orleans
Interest has gained since Hurricane Katrina in two unofficial symbols of New Orleans, the Fleur De Lis and the New Orleans Water Meter Cover, both are things I have used in my art for many years. The Ford Box Water Meter Cover was designed in 1920 just to be different for water meters used in New Orleans. The designer does not claim ownership of the design and artists for a long time have made it into art, hats, ornaments, and jewelry. There are several other water meter cover designs in New Orleans but the favorite is the Star and Crescent design.
The Fleur de Lis, originally the symbol of the French Kings since Clovis is said to represent a Lilly or the Christian Holy Trinity. The official flag of the City of New Orleans does have three fleur de lis on it and I have the flag on gift items I sell from my web page. In an effort to be different I also took the Water Meter Cover design and adapted it in several ways and colors. The unique styles, rectangular, blue, green, and other adaptations are all sold on various gifts from my web page. Many different Fleur De Lis are also sold on gifts. I believe I am the only one to have the Water Meter Cover on shoes and neckties too. Although as each day passes I notice more and more copies of my designs sold by other places. From clocks, to shoes. I have many New Orleans symbols on my web based stores at
http://www.cafepress.com/figstreetstudio
and at
http://www.zazzle.com/figstreetstudio
.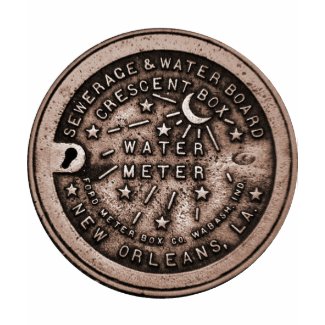 New Orleans Water Meter Cover
by
figstreetstudio
See other
New T-Shirts
Labels: Fleur de Lis, french quarter, new orleans