History of Gen. Andrew Jackson Statue in New Orleans
Some years back I read in the local paper that someone was able to take the sword off the statue of Gen. Andrew Jackson and a new one had to be made. Lucky for us the statue in Jackson Square is one of three made by an American artist and the first equestrian statue to be done in the USA. Back then I had to go to the New Orleans Public Library to find out information on Clark Mills but today it is easier to research things about art and New Orleans using the Internet. Clark Mills (1810–83 born NY) was a self trained American sculptor who completely designed and cast the statue for Lafayette Square in 1853 at Washington, DC . The statue was so remarkable that a committee in New Orleans asked him to cast another for the Place D'Arms which upon dedication in 1856 was renamed Jackson Square. Eventually a total of three were cast, the one in Washington, DC, New Orleans and another near Jackson's birthplace in Tennessee. Like most things I paint in New Orleans I always like to know more so when I paint it I can relate to it better. Lucky for me I have been able to visit each statue and will be in Washington, DC This summer to visit art there and will stop in Lafayette Square and see the original statue again.
Did you know that Philadelphia also has the same statue of Joan of Art as in the French Quarter?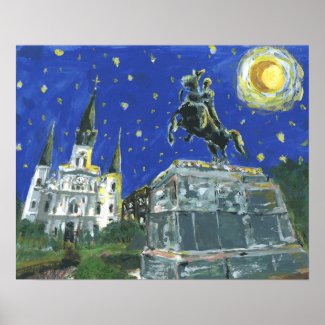 Starry Night Jackson Square Poster
by
figstreetstudio